iPads for Autism
Please, help us to give them a voice…
Autism affects one in every 110 children (1 in 90 boys), making it more common than childhood cancer, juvenile diabetes and pediatric AIDS combined. There is no known cause, and no known cure.
It is Swirlydoos' goal (with your support), to be able to supply this life changing tool to as many children with Autism as we possibly can!
---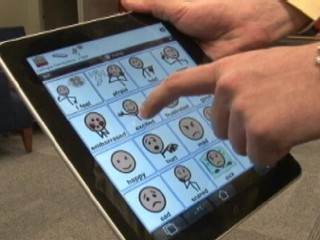 For autistic children, the new iPad is an effective, portable device for teaching communication and social skills. It's also way cool.
By Ashley Harrell Wednesday, Aug 11 2010
Since the iPad's unveiling in April, 2010, autism experts and parents have brought it into countless homes and classrooms around the world. Developers have begun pumping out applications specifically designed for users with special needs, and initial studies are already measuring the effectiveness of the iPad as a leaing tool for children with autism. Through the devices, some of these children have been able to communicate their thoughts to adults for the first time. Others have leaed life skills that had eluded them for years.
Though there are other computers designed for children with autism, a growing number of experts say that the iPad is better. It's cheaper, faster, more versatile, more user-friendly, more portable, more engaging, and infinitely cooler for young people. I just couldn't imagine not introducing this to a parent of a child who has autism, saysTammy Mastropietro, a speech pathologist based outside Boston who uses the technology with numerous clients. She sees it as a game changer for those with autism, particularly those most severely affected.
---
Many of you know that my own precious son, Mason suffers with Autism. Our family has been to hell and back repeatedly in our jouey to help Mason. We've fought, we've struggled, we've cried, we've fought some more, we've laughed and we've always had HOPE.  I purchased an iPad for Mason a few months ago, after hearing the miracle stories about how the iPads are helping children on the Autism Spectrum. My only regret is not being able to afford one sooner. Mason's iPad has made an incredible difference in his social interactions, communication, motor planning, coping skills, and transitioning. After seeing my own son's response to this invaluable tool, I find myself driven to give this special gift to as many children as I possibly can, but I need your help! 
An Apple iPad costs $499.00 (plus tax). This is an incredible investment that most families of special needs children just can't afford. Unlike with other illnesses and disorders, the essential Autism treatments are not covered by most insurance companies. This leaves the families to pay out of pocket for the numerous therapy sessions needed, including behavioral, physical, occupational and speech therapies. Mason's therapies alone cost just over $95,000.00 per year. Unfortunately, this is an expense that many families lose their homes to, and go bankrupt over in an effort to help their babies. As you could imagine – spending $500.00 on a tool (regardless of how valuable it may be in helping their child), is simply out of the question.
Absolutely 100% of all donated funds go directly to supplying an iPad to a child suffering with Autism.
Swirlydoos will absorb the sales tax and shipping cost for all iPads, leaving the recipient families with ZERO out of pocket expense for the iPad.
All of the children we support will be listed here so that we can see our donations making a difference!
All Swirly Angels (that's you) who give us their permission will be listed here as well, so that the families can know just who made this opportunity possible for their child.
If you are able to send in a donation, please know that no dollar amount is too small! Every penny donated leads us one step closer to being able to deliver this much needed tool to a child in need.
Date Fund Raising Began: Tuesday 15 March 2011 
iPad #4 funds banked to date: $25.00
Amt still

needed to purchase 1 iPad for a child with Autism: $474.00
---
*** iPads already purchased for special kiddos –

THREE!!

***
---
Swirly Angels
Without whom, these miraculous gifts would not be possible.
Susan B – Nanci O – Elizabeth J – Pamela D – Peggy G – Tracey P – Rae M – Camilla E – Lisa N – An Anonymous Angel – Shona K – Cheryl M – Cole M – Maria R – Linda P – Wanda H – Diana A – Lisa G – Erica O – Shelly M – Denise J – Janet K – Kathi S – Lisa V – Sue G – Shirley K – Kim H – Jennifer S